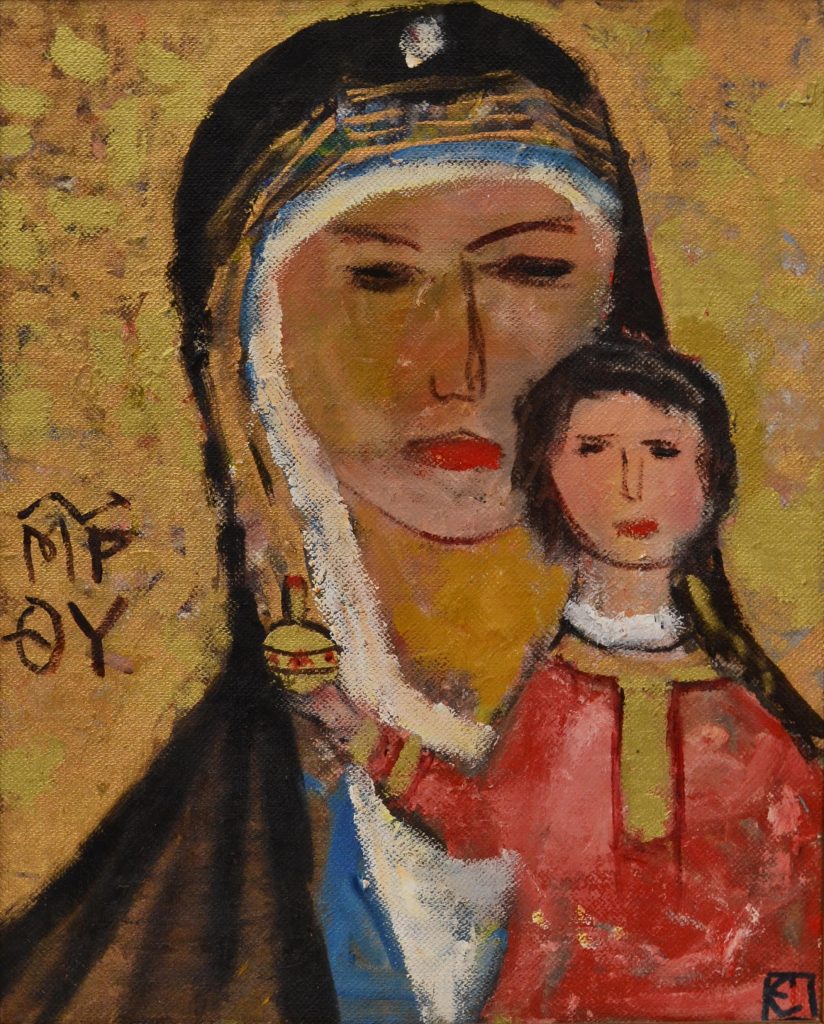 Extended through July 9, 2023!
Dispersed across Midwestern private homes and churches, Emilian Glocar's works are hidden gems of sacred art. Painted with childlike ease, unaffectedness and, at the same time, modernist sensibilities, they occupy a unique place among myriads of religious icons created in the past two millennia of Christian iconography. TMORA presents paintings, both religious and secular, by this remarkable, yet little-known artist, on loan from Maureen and Sharon Messer, St. John the Baptist Eastern Orthodox Church, Gilman, WI, and the Holy Assumption Orthodox Church, Lublin, WI. We express our deep gratitude to all collectors and church parishes who have preserved these rare works.
The early life of Fr. Glocar is a study in the ever-changing and fractured geography of the Balkans and a lesson in Imperial collapse. Emilian Glocar was born in 1906 in the village of Lukavice (then in the Austro-Hungarian Empire, now in the Czech Republic) and, after the downfall of the Hapsburg Monarchy, studied at the Serbian Orthodox Seminary in Sarajevo (then the Kingdom of Serbs, Croats and Slovenes, now Bosnia and Herzegovina) from 1923 to 1928. He learned theology in Belgrade (then in the Kingdom of Yugoslavia, now in Serbia), was ordained to the priesthood, and served in Dalj (then the Kingdom of Yugoslavia, now Croatia). Shortly before WWII, his church authorities sent him to the United States to be a priest at a Serbian Orthodox parish in Ohio.
In 1956, Fr. Emilian was dismissed from his position. One of the reasons, possibly, was his individual approach to icon painting. His icons were too innovative, too expressive and "unorthodox" — they did not conform to the age-old conventions of Eastern Orthodox iconography. A cross between Naïve art and post-impressionism, they were unlike anything a believer would be accustomed to seeing in an Orthodox church. To make a living, Fr. Glocar also painted non-religious works reminiscent of French Impressionism, especially the art of Claude Monet, remarkable for their sense of color and atmosphere.
In 1963, Archbishop John (Garklāvs) of the Chicago-Minneapolis Diocese received Fr. Glocar into the Orthodox Church of America (OCA) where he remained, serving in a small parish in Wisconsin, and painting iconostases in local churches. Fr. Emilian died in 1985 at the St. Sava Serbian Orthodox Monastery in Libertyville, Illinois.
In 1944, Fr. Emilian published a novel, A Man from the Balkans, now out of print and difficult to find, on the mid-20th-century immigrant experience in the US. In this small exhibition, we honor the art of forgotten artists, as well as the lives of millions of our fellow Americans, who arrived from the Balkans and other eastern European lands to find a new home in the US.
A Man from the Balkans: Divine Art by Fr. Emilian Glocar is on view in the Fireside Gallery January 28 – April 30, 2023
Collection of Maureen and Sharon Messer