Political Cartoons from the Holocaust to Ukraine: Resistance to Tyranny
Thursday, April 20 from 7:00 pm

-

9:00 pm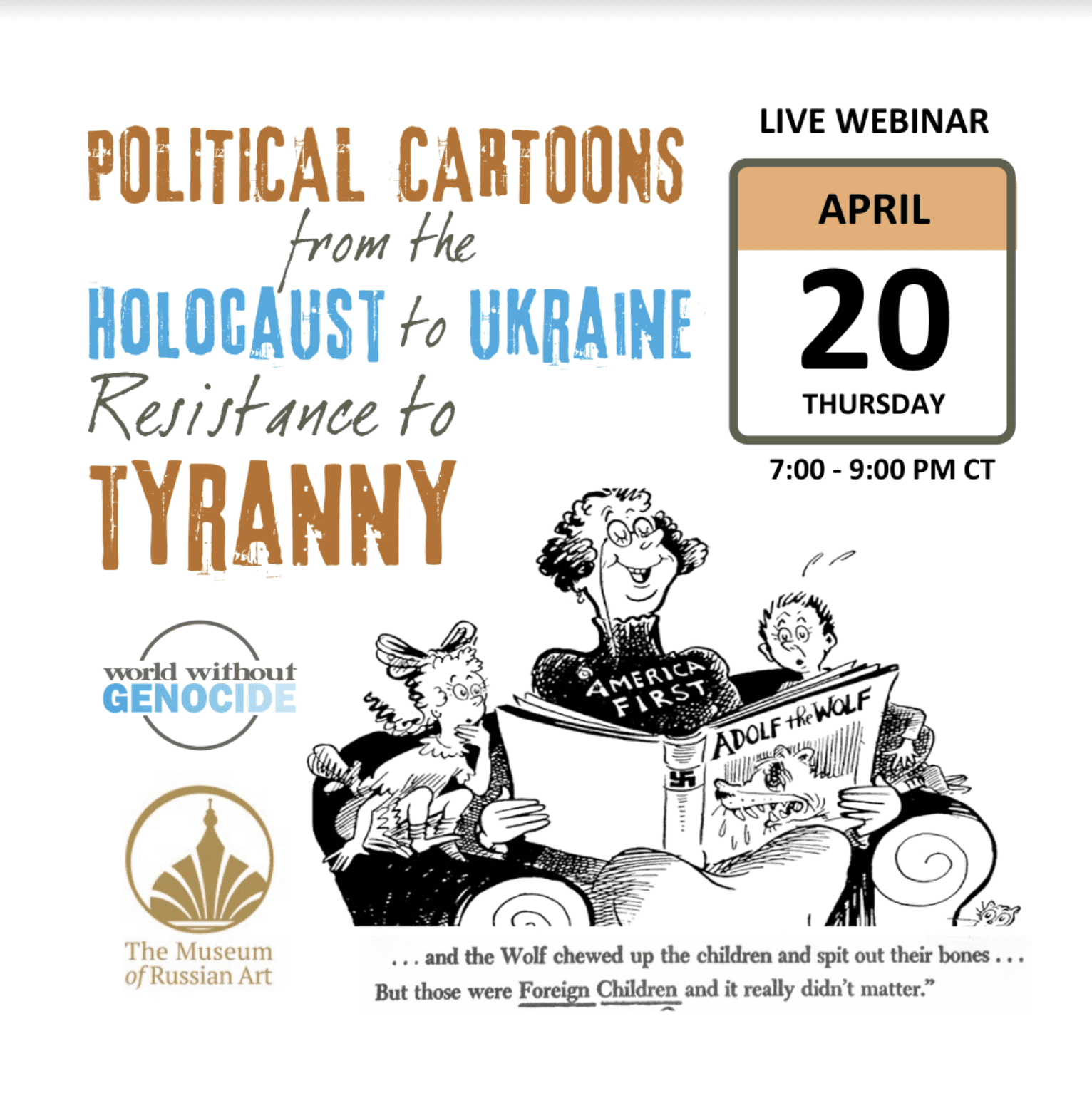 Political Cartoons from the Holocaust to Ukraine: Resistance to Tyranny
World Without Genocide will host a webinar on Thursday, April 20, 2023, 7:00-9:00 pm CT on Zoom to explore the use of political cartoons during the Holocaust and in today's war in Ukraine. Political cartoons give hard-hitting social commentary on critical events to influence action.
Dr. Rafael Medoff will speak about cartoonists who documented the atrocities of the Holocaust to urge Americans to save Jewish and other innocent lives.
Political cartoonist Andrey Feldshteyn and exhibition curator Dr. Masha Zavialova will speak about the current exhibition at The Museum of Russian Art titled Say No to War: Political Cartoons by Ukrainian and Russian Artists. The two speakers will share images of the cartoons and will discuss cartooning in today's context.
$10 general public, $5 students (over age 13, please) and seniors. 'Clock hours' for Minnesota teachers, nurses, and social workers. Free to Mitchell Hamline students (diversity credits available). $25 for 2 Elimination of Bias CLE credits (pending) for Minnesota lawyers.
Registration is required by Thursday, April 20, 6:00 pm CT:
This is a live webinar program, and a recording will not be available.
Co-Sponsors: Children of Holocaust Survivors Association in Minnesota; Citizens for Global Solutions – MN; Federal Bar Association, Minnesota Chapter; Germanic-American Institute; Global Minnesota; Lutheran Church of the Redeemer; Minnesota Association of Black Lawyers; Minnesota Council of Churches; Minnesota Justice Foundation; Minnesota Nurses Association; Mitchell Hamline School of Law; Mount Zion Temple; Shir Tikvah Congregation; The Museum of Russian Art; and the United Nations Association of Minnesota.
More information – www.worldwithoutgenocide.org or 952-693-5206.