Marina Tsvetaeva – An Evening of Poetry and Music
Friday, November 17, 2017 from 7:00 pm

-

9:00 pm

$15 – $18
The Museum of Russian Art is honored to celebrate the 125th Anniversary of the birth of one of the most prominent 20th century Russian poets – Marina Tsvetaeva
The evening will feature music and poetry by a cadre of performers, exemplifying the magical world of Tsvetaeva's poetry.  Performances will be in both Russian and English.  We hope you will join us!
Marina Tsvetaeva – An Evening of Poetry and Music
Friday, November 17th  |  7:00pm  
General Admission:  $18  |  Seniors, TMORA Members, Students:  $15
Если душа родилась крылатой"
Амазонка русского Серебряного века
Вечер поэзии и музыки
 125-летнему юбилею Марины Цветаевой посвящается творческий вечер-спектакль, который пройдет в Музее русского искусства 17 ноября.
Вечер задуман в формате творческого спектакля – это новая программа, новое высказывание, рассчитанное на глубокое и эмоциональное восприятие аудиторией.
Проект, в котором заняты двенадцать участников, ставит своей целью возвращение интереса к высокой поэзии, возвращение имен и стихов поэтов забытых или запрещенных в советский период. Подобные проекты собирают сотни зрителей в лучших залах Москвы и других городов.
В программе прозвучит более 40 стихотворений Марины Цветаевой – от самых ранних романтических строк до трагедийных нот последних лет. Несколько этих текстов положены на музыку участниками проекта. Все стихи и песни выстроены в единую драматическую музыкально-поэтическую композицию, сопровождаемую синхронной демонстрацией на экране портретов, фотографий, связанных с жизнью и творчеством Марины Ивановны. Все вместе – тексты, ритм и дыхание стиха, музыка, видеоряд – эмоционально захватывает слушателей и погружает в мир Поэта.
Программа рассчитана на широкий круг слушателей. Билеты можно заказать по телефону 612-821-9045, ext 12.
Russian Cultural Center (RCC), Washington, D.C.
ABOUT MARINA TSVETAEVA
Russian poet Marina Tsvetaeva was born in Moscow.  During her lifetime she wrote poems, verse plays, and prose pieces; she is considered one of the most renowned poets of 20th-century Russia.
Tsvetaeva's life coincided with turbulent years in Russian history. Critics and translators of Tsvetaeva's work often comment on the passion in her poems, their swift shifts and unusual syntax, and the influence of folk songs. She is also known for her portrayal of a woman's experiences during the "terrible years" (as the period in Russian history was described by Aleksandr Blok).
Collections of Tsvetaeva's poetry translated into English include Selected Poems of Marina Tsvetaeva, translated by Elaine Feinstein (1971, 1994). She is the subject of several biographies as well as the collected memoirs No Love Without Poetry (2009), by her daughter Ariadna Efron (1912–1975).
– Excerpt by the Poetry Foundation
www.poetryfoundation.org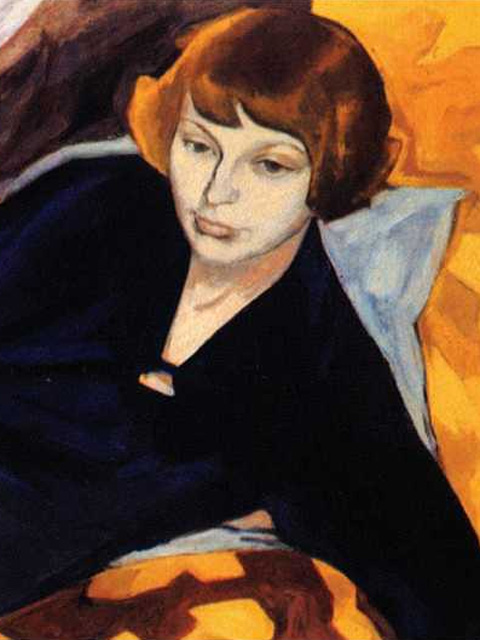 Marina Tsvetaeva – by Magda Nachman-Acharya, 1913